09 septembre 2010
Today, the meteo had said it would rain but the sun was shinning when I woke up so I decided to go on a park to study my kanjis.
I went to Hibiya Park but mosquitoses were there too and I ran away to a Starbucks. There, I studied.
On the evening, I met friends from my university in Paris and we went to a club in Roppongi called The Gaspanic. (Don't ask me what does it mean...)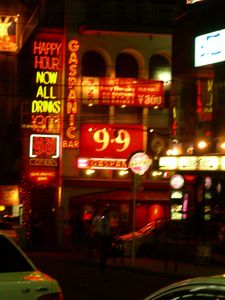 '
Around four a.m., we got feed up and walked to Shibuya (for one hour!) to catch the first train which was at 5.30. We stopped to wait in a mac do where I had a hamburger at 5 a.m. (first time).
Shibuya was pretty crowed so I called it, Shibuya ou la ville que ne dort jamais!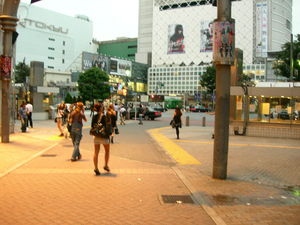 08 septembre 2010
Yesterday and today, I went twice to the Inokashira Parc with different friends.
Yesterday, 09/07 - Sunny :
I've met Ena and her nice sister at Kochijo-ji station then we walked around the park and, as we looked at a couple in a boat, they told me what is said about the Inokashira Parc's lake.
The god (kami) of the lake is a female and each time a couple is sailing on it, she become jealous and she makes them break up. So if you want to break up with your girl/boyfriend, you can go there and you will.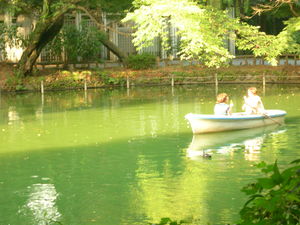 Ena and her sister have been both at school next to the Parc and spent a lot of time there. High scool and middle school Japanese students love story like that about Parc, Temple, High School and each of them have got its legend.
After walking around, we went to take purikura, it's the same system than the photo booth with more option, you can choose the background and write everything on the pictures, I love doing that and I believe it's very popular with girls. It's fun because the purikura machine, made your eyes bigger and your hair blonder, it shows very well how a lot of Japnese girlwould like to be.
Then we stopped by a Hammock Café, "What's that?" I thought. In fact, it's a café where your seat is a hammock, the idea is not bad at all and the place was very nice. We had dinner in a cheap japanese style "yakitoriya", it was delicous and really fun.
Today, 09/08 - Rainny :
For the second time, I went to the Inokashira Park with a friend, we wanted to get on a boat and sail on the lake but it rainned and everything was closed.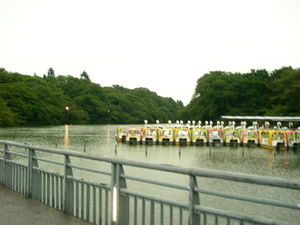 So he have me try a "oden", a kind of soup (in french we would say "bouillon"), where you put many weird/japanese things inside. Anyway, it was good! We sat in front of the lake to eat it and mosquitoses bit me again...
Then we had dinner at Shimokitazawa, in a very funny place, between the "yakitoriya" and the "izakaya" (place where you drink -and eat-), we spoke with everyone, it was really fun and I met a very nice old man (ojii-san) who I suspected having a link with the yakuza and was doing sudoku, he gave me some cute origami (foldings), a kimono, a "oni" (japanese monster) and a horse. Later, a lady wearing a kimono came to eat and drink with him, I didn't dare to ask him if she was his daughter... >.<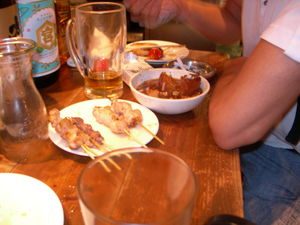 Do I look like someone who's eating all the time? Yes it is! And I don't tell you everything! (Désolée maman =D)
06 septembre 2010
What a wonderful day I had!
First, with friends, we went to the beach at Zushi. We had some lunch on the beach then we went swimming. The water was so warm! and a bit dirty actually... But nevermind! We enjoyed it so much! Beach with friends, this is true holiday! It was hot and I got some sunburns...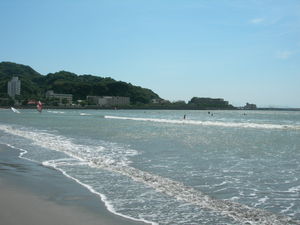 Then, since Yokohama was between Zushi and Tokyo, we decided to go there. My friends were very nice to me and shew me a lot of things. We came at first at China Town Yokohama, because my friends told me that we could eat some good chinese food and we were hungry. The town itself is so interresting! There were a lot of so nice chinese style buildings! After eating, we walked around in China Town and we so a lot of little stands of food which looked so delicious! I regreted I ate too much! Anyway, I'll come back!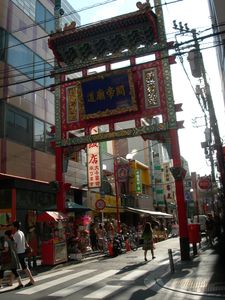 After we left China Town, we walk to the bay. I do love Yokohama ! The streets are large, modern and clean, they made me think of some streets in San Francisco... And the Yokohama bay... It has to be seen, so modern, with green &c. We had luck because the night was falling and we saw Yokohama by day and night,
you have to see more pictures on facebook!
I don't have to much more to say, it has to be seen.
I sang for the first time on a karaoke, that was fun but I'm a very bad singer! I have to improve!
05 septembre 2010
Today, I've been to Harajuku, in the Takeshita street.
As all Sundays afternoon in that street, it was crowed. That street is the meeting point of every young people to have fun and do shopping, it's cheap and very fashion.
It had been hard to resist to buy everything... I've spent more money I should have but it doesn't matter.
Actually, I didn't enjoyed it, it was so crowed, hot and noisy that I scarcely bear it!
I enjoyed the crepe I had there though!
I wanted to see the Todo no mori no nomi no ichi, a flea market near to Takeshita st but it ended last year and I didn't find the restaurants where my friend told me to go so...
Except for the good clothes I bought, that day wasn't really interesting...
04 septembre 2010
This morning, I went to Tsukiji with my friend Ena and her mother.
Her mother is a cook teacher and she's used to go often there, in addition to be with someone who's knowing very well the place (which is rare, even the Japanese lost themselves), we had the pleasure of beeing treated as we were princesses.
At the first shop, we had been offered ice cream, then in another, a cup of green tea with corn...
So, I have learnt more about fish than ever in my life (that is to say, not very much =p), I know several names of fish, いか:squirrel-calamard たこ: octopus-poulpe うに: (I didn't found the translation but it seems we have it in France) まぐろ:tunna-thon 亀/かめ: turtle-tortue うなぎ: eel-anguille...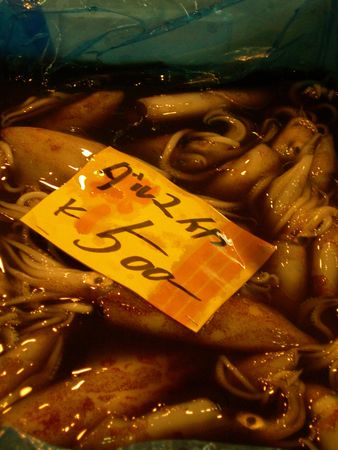 I also ate for the first time, sushi. Every Japanese tell you that sushi are not the same in Japan and in the other part of the world. I believe it. First, you have a different rice for sushi, then you have to be careful with the water you use to cook rice, in France, you musn't use tap water, you have to use volvic or a Japanese will tell you that your rice is not good (same thing for tea...). And the fish... There is no comparison between a fish from Tsukiji and from a market in Paris (for example).
What I have eaten where soft, fresh and very sophisticated (as everything in Japan I believe...), there were cookers, making sushi in front of us with a wonderful ease. That was a real eyes pleasure too.
Anyway, I've been so concentrated on what I was eating that I forgot to take pictures... ='(
03 septembre 2010
I woke up early and I decided to walk from my hotel (Minami senju) to Asakusa. On the way, I saw a little temple, since it was early in the morning (8:30 - 9:00), there were a few old people who came to pray. That was charming but I felt uneasy looking at them during there prayers. I finally arrived in Asakusa, I saw the Senso-ji Temple then I walked to Ueno. (I was tired so I stopped at a Starbuck Coffee for half an hour).
Asakusa - Senso-ji - Hozo-mon
In Ueno Park, there was a really funny show, that was the students of the Ueno universities of Art who made floats and, in the Japanese style, were carrying them.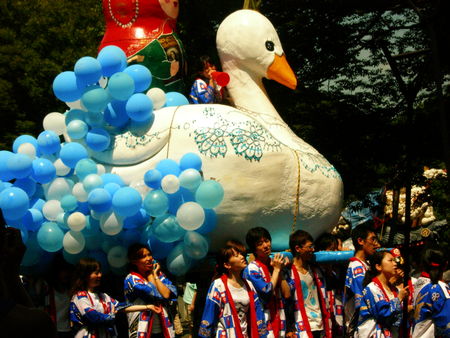 The whole thing with music and energy!
I did enjoy Ueno Zoo, I saw a lot of animals I had never seen before and the Park was very beautiful!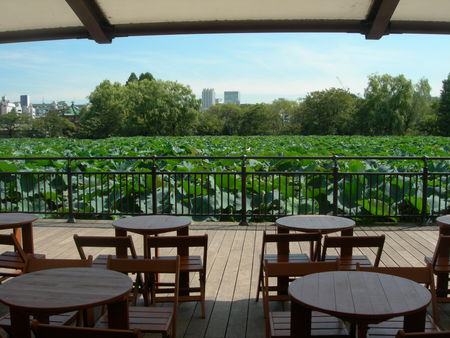 Cf : Facebook for more pictures!
The mosquitos : I didn't think I could be bitten at this period of the year but with 32°C, I've been biten six times... I'll bring my spray with me next time...
明日は、築地です〜。
02 septembre 2010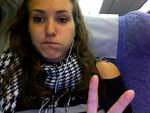 I boarded the plane full of noisy Chineses and found my seat by an unpleasant fat man. He kept moving so I could not sleep.
I'll say no more of that annoying flight which had lasted 11 hours.
After running around in the whole Beijing's airport to catch my second flight (sorry dad, I didn't have the time to take pictures of the airport), I sat by a charming Japanese woman who immediatly talked to me. She gave me some good addresses of ramen restaurants and taught me some new japanese words. Suddenly, I felt someone was poking me, I looked, and saw a girl smiling at me saying 'INALCO?'. Yeah, the two girls behind my seat were at my university, in the same year...
We spend an agreable time though it was very long!
After some other adventures, I finally reached my youth hostel, sweating, where I had to choose between taking a japanese style bath with 6 or 7 Japanese girls or getting some more privacy in a shower where you had to pay 100 yens each 5 minutes...
Anyway, je suis bien arrivée et contente!
29 août 2010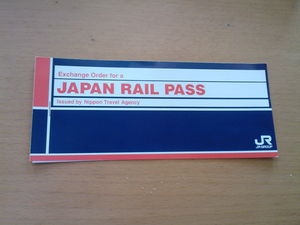 JR Pass for friends or Japan Rail Pass (for others), JR is the main rail company in Japan.
If you are a foreigner you can buy that pass to travel freely in Japan.
More informations here --> in english or en français
On this picture, it is mine!