04 septembre 2010
This morning, I went to Tsukiji with my friend Ena and her mother.
Her mother is a cook teacher and she's used to go often there, in addition to be with someone who's knowing very well the place (which is rare, even the Japanese lost themselves), we had the pleasure of beeing treated as we were princesses.
At the first shop, we had been offered ice cream, then in another, a cup of green tea with corn...
So, I have learnt more about fish than ever in my life (that is to say, not very much =p), I know several names of fish, いか:squirrel-calamard たこ: octopus-poulpe うに: (I didn't found the translation but it seems we have it in France) まぐろ:tunna-thon 亀/かめ: turtle-tortue うなぎ: eel-anguille...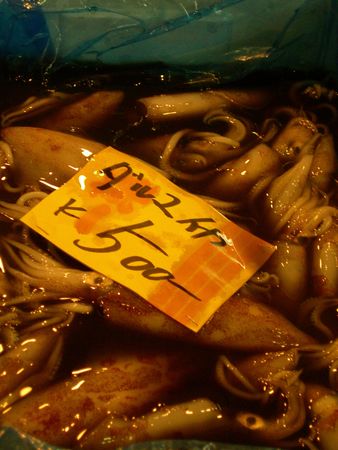 I also ate for the first time, sushi. Every Japanese tell you that sushi are not the same in Japan and in the other part of the world. I believe it. First, you have a different rice for sushi, then you have to be careful with the water you use to cook rice, in France, you musn't use tap water, you have to use volvic or a Japanese will tell you that your rice is not good (same thing for tea...). And the fish... There is no comparison between a fish from Tsukiji and from a market in Paris (for example).
What I have eaten where soft, fresh and very sophisticated (as everything in Japan I believe...), there were cookers, making sushi in front of us with a wonderful ease. That was a real eyes pleasure too.
Anyway, I've been so concentrated on what I was eating that I forgot to take pictures... ='(
Commentaires sur 築地 - Tsukiji, the biggest fish market of the world!