06 septembre 2010
What a wonderful day I had!
First, with friends, we went to the beach at Zushi. We had some lunch on the beach then we went swimming. The water was so warm! and a bit dirty actually... But nevermind! We enjoyed it so much! Beach with friends, this is true holiday! It was hot and I got some sunburns...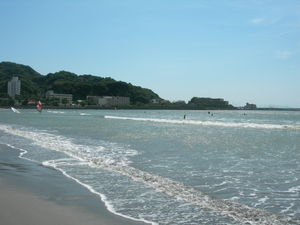 Then, since Yokohama was between Zushi and Tokyo, we decided to go there. My friends were very nice to me and shew me a lot of things. We came at first at China Town Yokohama, because my friends told me that we could eat some good chinese food and we were hungry. The town itself is so interresting! There were a lot of so nice chinese style buildings! After eating, we walked around in China Town and we so a lot of little stands of food which looked so delicious! I regreted I ate too much! Anyway, I'll come back!
After we left China Town, we walk to the bay. I do love Yokohama ! The streets are large, modern and clean, they made me think of some streets in San Francisco... And the Yokohama bay... It has to be seen, so modern, with green &c. We had luck because the night was falling and we saw Yokohama by day and night,
you have to see more pictures on facebook!
I don't have to much more to say, it has to be seen.
I sang for the first time on a karaoke, that was fun but I'm a very bad singer! I have to improve!
Commentaires sur 逗子と横浜 - Zushi and Yokohama