08 septembre 2010
Yesterday and today, I went twice to the Inokashira Parc with different friends.
Yesterday, 09/07 - Sunny :
I've met Ena and her nice sister at Kochijo-ji station then we walked around the park and, as we looked at a couple in a boat, they told me what is said about the Inokashira Parc's lake.
The god (kami) of the lake is a female and each time a couple is sailing on it, she become jealous and she makes them break up. So if you want to break up with your girl/boyfriend, you can go there and you will.
Ena and her sister have been both at school next to the Parc and spent a lot of time there. High scool and middle school Japanese students love story like that about Parc, Temple, High School and each of them have got its legend.
After walking around, we went to take purikura, it's the same system than the photo booth with more option, you can choose the background and write everything on the pictures, I love doing that and I believe it's very popular with girls. It's fun because the purikura machine, made your eyes bigger and your hair blonder, it shows very well how a lot of Japnese girlwould like to be.
Then we stopped by a Hammock Café, "What's that?" I thought. In fact, it's a café where your seat is a hammock, the idea is not bad at all and the place was very nice. We had dinner in a cheap japanese style "yakitoriya", it was delicous and really fun.
Today, 09/08 - Rainny :
For the second time, I went to the Inokashira Park with a friend, we wanted to get on a boat and sail on the lake but it rainned and everything was closed.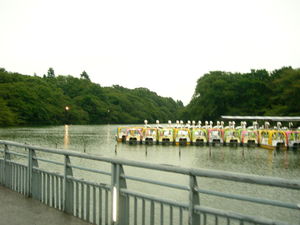 So he have me try a "oden", a kind of soup (in french we would say "bouillon"), where you put many weird/japanese things inside. Anyway, it was good! We sat in front of the lake to eat it and mosquitoses bit me again...
Then we had dinner at Shimokitazawa, in a very funny place, between the "yakitoriya" and the "izakaya" (place where you drink -and eat-), we spoke with everyone, it was really fun and I met a very nice old man (ojii-san) who I suspected having a link with the yakuza and was doing sudoku, he gave me some cute origami (foldings), a kimono, a "oni" (japanese monster) and a horse. Later, a lady wearing a kimono came to eat and drink with him, I didn't dare to ask him if she was his daughter... >.<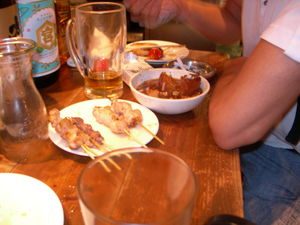 Do I look like someone who's eating all the time? Yes it is! And I don't tell you everything! (Désolée maman =D)
Commentaires sur 井の頭公園と下北沢 - Inokashira Park and Shimokitazawa